19 September, Monday evening. Our bags are packed. We look at the empty stand, with a hint of melancholy, and prepare to leave, for Tuscany.
Ziio at Homi Fashion & Jewels Milan
It has been a wonderful few days here at Homi Fashion & Jewels.
To be among the protagonists of this splendid event, which showcases the excellence of jewellery and fashion accessories, is an unforgettable experience.
The atmosphere created, day by day, was lively, eccentric, elegant. Made of colours, trends and art, but most importantly made of people.
Ziio jewels met with glances that lingered to admire them, voices that wove enchanting praises and hands that felt the pleasure of touching our creations.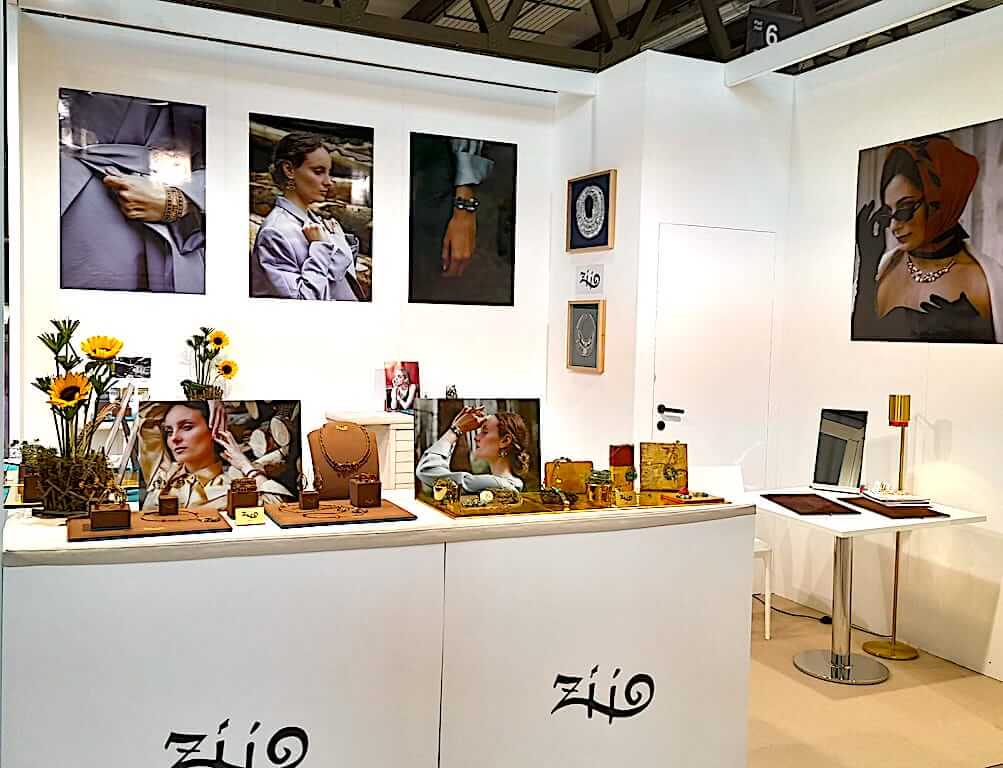 SHINJU Garnet & Green
Someone said that Ziio does not create jewellery, but works of art.
An architect, admiring the appearance of our bracelets, said 'What strikes me most is the rhythm, which is in every piece of jewellery: the alternation of lines, horizontal and vertical, of full and empty spaces, of shapes'.
Craftsmanship is one of the elements that makes our creations so special.
In such a highly globalized and uniformed world, where fast fashion prevails everywhere, there is a need to seek a more authentic and human dimension. That is where beauty, creativity and uniqueness lie.
And then compliments from our most affectionate customers, on the new Shinju collection, in Green and Garnet, the protagonist of our booth, displayed, like a true diva, on a blaze of gold.
The highly successful Shinju line design is enhanced with the warm colours of autumn.
New Shinju not only impressed our long-standing customers, who came to visit us, but also seduced new eyes, which we hope will become part of the World of Ziio.

Shinju Green Materials
Peridot, chrysoprase, fluorite and zircon give lightness and airiness. Chrysoprase, in shades of apple green, lends verve and vivacity. The clear, transparent green of the fluorite and the brilliance of the zircon light up and warm each creation. Jade, with its delicate and silky colour, and aventurine, intense and brilliant, represent the most powerful shades of green. Finally, malachite, with its rich shades ranging from light green to blackish, gives a unique and attractive appearance.

Materials Shinju Garnet
Shinju garnet brings together many stones with warm tones. The bright, intense tones of the garnet gradually become softer and more delicate, turning towards orange and soft yellow.
The strength of garnet explodes, with its imperious and elegant ruby red colour. Carnelian and agate are warm touches of orange. Small stones of pyrite and black onyx break up the colour balance, creating dynamism to the whole. Finally, amber and citrine, with their warm, enveloping golden colour, close the colour gradation.
Thank you!
We would also like to share the credit for such success with the all-female team: Navyo, our saleswoman. Chiara Trevisan, our agent in Lombardy. Monica, manages Ziio's logistics and customer contacts. ( from left)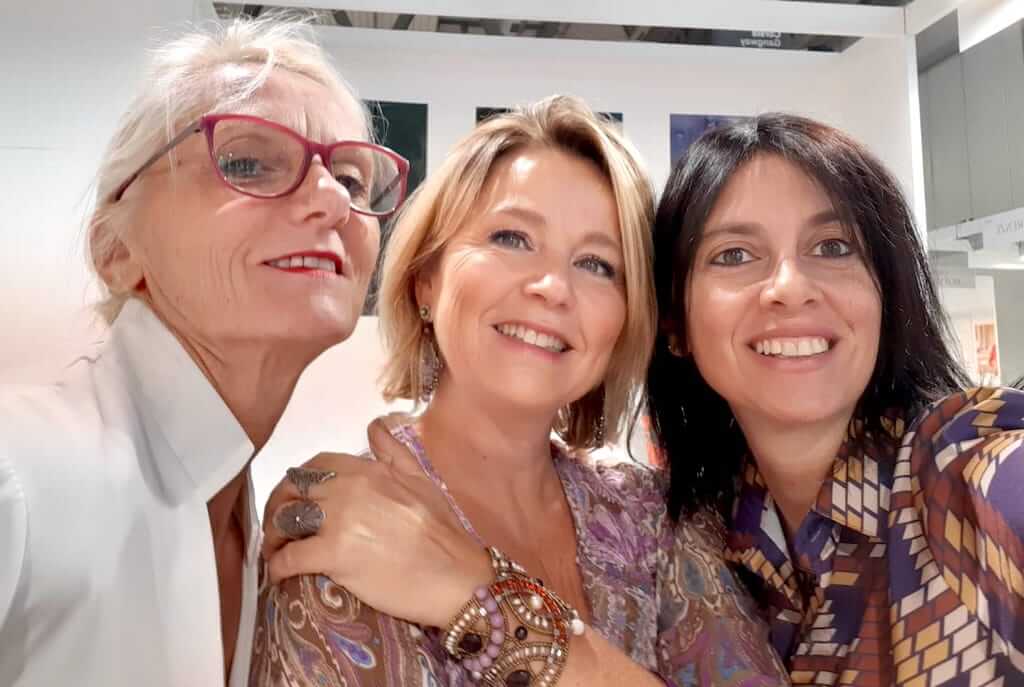 Chiara is wearing our Bracelet Amore Original.
Many thanks to Chiara Trevisan, our agent. She welcomed her clients with her unparalleled grace. When they say "class is not water!"
Sharing
The word 'sharing' comes to mind, because that is what we experienced during these days at the exhibition. Not just among ourselves, colleagues and collaborators, but also with others, exhibitors and the public.
We have shared the amazement of admiring so much beauty at once, the emotions of all the amazing designer creations, the hard work and the satisfaction of success.
We leave with a suitcase, which is not only full of jewellery, but also of memories that will warm our hearts, in the months to come. Thank you!
See you in February!
HOMI Fashion&Jewels, 17-20 February 2023, fieramilano (Rho)
Special thanks to the Homi Fashion & Jewels Team
Filomena Sannino, Sales Manager of Homi Fashion & Jewels, her efficiency is matched only by her courtesy!
Thank you to Gilda Ametrano, sales, and Lucia Atti, set-up manager, for their constant support.
#jewels #handmade Ziio at Homi Fashion & Jewels Milan